• conscious culture • conscious leadership • culture • personal development
We
'd like to welcome Dr. Timothy Dukes and Michael Landers and their book 
Present Company: Cultivating a Culture of Presence in Life and Work

 
to 
Conscious Capitalism Press
. Cultivating our presence is key to conscious leadership, and so we are honored to publish their book and to include them as CC Press Founding Authors. Welcome, Timothy and Michael!
---
• conscious culture • culture • personal development
We'd
 like to welcome to 
Conscious Capitalism Press
 Rosie Ward and Jon Robison's proposed book 
Rehumanizing the Workplace: Future-Proofing Your Organization While Restoring Hope, Well-Being, and Performance
. Jon and Rosie have been part of the Conscious Capitalism community and have held conferences and been keynote speakers discussing Conscious Capitalism tenets. Welcome to the press, Rosie and Jon!
---
• collaboration • conscious culture • conscious leadership • TED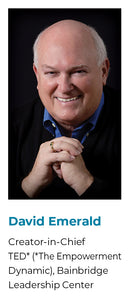 Please join us in welcoming David Emerald and his book 
Seven Commitments for Empowered Collaboration
 to
Conscious Capitalism Press
. 
David has been an impactful member of our community for nearly a decade, leading numerous practicum sessions at events over the years. We are deeply honored to include him as a CC Press Founding Author. Welcome David!